Translational health sciences / Teaching
Skylit garden atrium serves as heart of Brazilian medical research building
By Andrew Sansom | 26 Jul 2022 | 0
Due to open in August, the Albert Einstein Education and Research Center (AEERC) is the latest project of Brazilian healthcare institute Sociedade Beneficente Israelita Brasileira Albert Einstein, and it has been conceived as an urban oasis.
Located in the residential district of Morumbi, São Paulo, adjacent to the main Hospital Israelita Albert Einstein, the AEERC is designed by international studio Safdie Architects, in collaboration with Perkins & Will, and is envisioned as a landmark learning and research environment.
Radiating an imbued sense of calm that offers a counterpoint to the bustling city, the 250,605 sq ft AEERC is organised around a vaulted, skylit atrium garden, with the building's laboratory spaces, classrooms, and communal areas interwoven with nature.
Visible from almost every corner of the building, the spacious garden atrium is described as the physical and symbolic centrepiece of the building, offering opportunities for spontaneous interaction, collaboration, and discovery, as well as stillness and contemplation. The stepped terraces connect four main levels of activity: a restaurant on the first floor; amphitheatre and auditorium on the centre levels; and exhibition/event space on the fourth floor.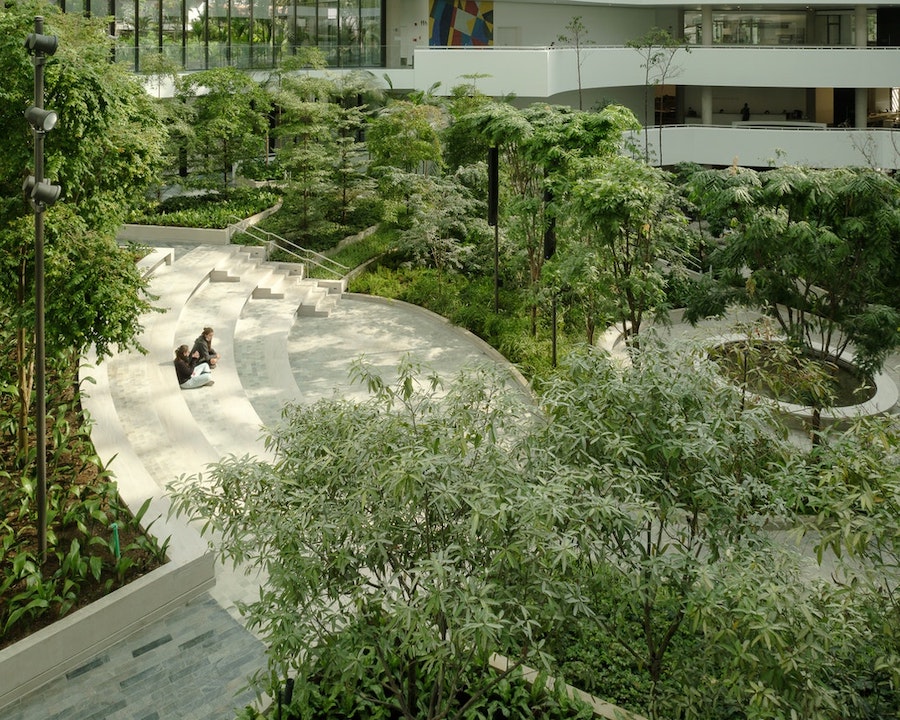 Two connected wings bookend the atrium. The east wing of the AEERC contains the main teaching spaces, including education spaces for nursing, medicine, graduate programmes, medical residency, and technical courses. The west wing, meanwhile, houses medical research facilities, including laboratories, clean rooms, and clinical research spaces. Continuous walkways are said to bridge the teaching and research wings and are punctuated by intimate meeting and study spaces on each level.
The atrium environment is described as offsetting three countervailing factors: providing ample daylight for the plants to thrive; regulating heat gain and glare for human comfort; and providing shading by filtering bright sunlight.
Speaking to Dezeen, partner at Safdie Architects Sean Scensor said: "We were looking for the lightest structure to efficiently span between the two wings of the building and bring light into the garden.
"The overlapping domes, engineered as a thin steel lattice, turned out to be the most elegant solution to the problem."
Designed in collaboration with Brazilian landscape architect Isabel Duprat, the atrium garden features a variety of native species. Terraced planters reinforce the curving geometry of the atrium, and layering of trees and planting creates a mix of spaces, from the social amphitheatre and exhibition space to quiet intimate spaces lined with seating around a small fountain.
Other members of the project team include, among others: Arup + MHA Engenharia as MEP services consultant; and Arcadis, providing construction management.
Construction of the AEERC began in 2017 and was completed last month.