Office & workplace / Sustainability
New office tower in South Australia captures several sustainability firsts
By Andrew Sansom | 02 Sep 2022 | 0
A new office building is destined to seal several firsts for Adelaide – the first all-electric, carbon-neutral-ready building; the first Platinum WELL v2 pilot pre-certified building; and the first commercial and retail mixed-use building that will not use natural gas.
It will also be the first Platinum WiredScore building delivered in Adelaide, a rating achieved through a focus on providing world-class technology infrastructure, connectivity and cyber security.
Developed by Cbus Property with architecture and interior design by Woods Bagot, 83 Pirie Street has now reached practical completion. The A-grade commercial building spans 30,000 square metres across 22 levels and is one of the largest commercial office developments in South Australia. The Government of South Australia's Department for Infrastructure and Transport will be the anchor tenant, consolidating its several city locations into one.
Woods Bagot director Thomas Masullo believes that, alongside providing a cutting-edge workplace, the building will help rejuvenate the underutilised area of Adelaide's central business district.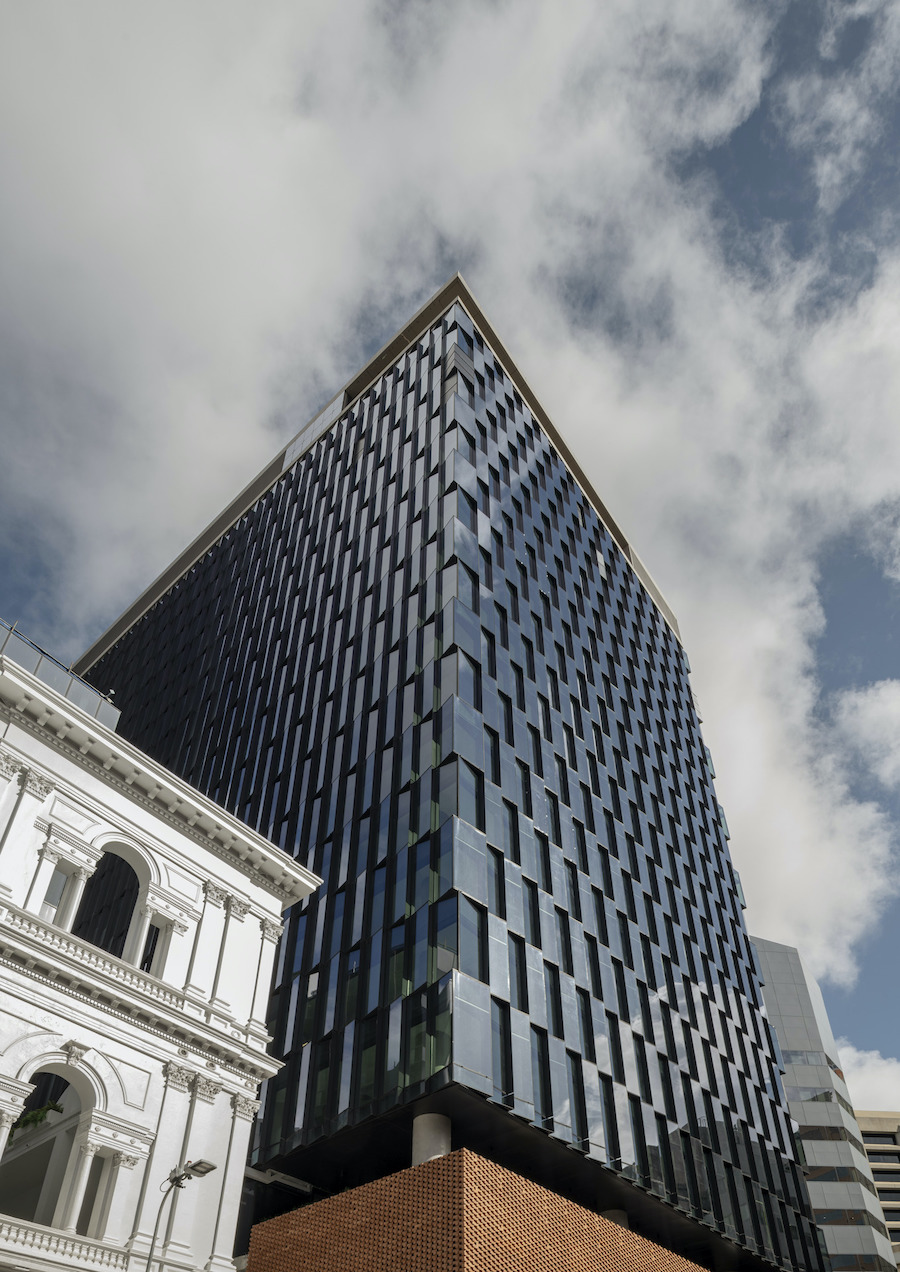 "83 Pirie Street provides a vital contribution to the urban realm of Adelaide," said Masullo. "A combination of hospitality, wellness and commercial functions build on the business and lifestyle character of the Pirie Street precinct. Active frontages and generous setbacks return space back to pedestrians and unlock the key north-south axis of the city."
Cbus Property's chief executive, Adrian Pozzo, said 83 Pirie represents "the next generation of office design".
He explained: "Designed to meet net-zero carbon in operation, 83 Pirie is targeting a 5.5 star NABERS Energy design rating, including a 100-kilowatt onsite solar system and an established renewable electricity purchasing arrangement to make the all-electric base-building powered entirely by renewable energy."
Thanks to Woods Bagot's focus on health and wellbeing in designing the tower, the building has achieved Platinum WELL pre-certification from the International WELL Building Institute.
Alongside its large, flexible floorplates and indoor air quality, the office tower is said to benefit from impressive rooftop amenity with views of the Adelaide Hills, a multi-purpose wellness centre for on-site activities and events, and premium end-of-trip facilities.
Bridging work style and lifestyle
Masullo believes that Pirie Street's history as a residential street, comprising businesses with attached homes, informed the tower's bridging of work style and lifestyle.
"The transparent lobby, end-of-trip facilities and retail spaces work to activate Pirie Street and create a transition from the outside world to the workplace," he said. "Pedestrian movement and outdoor dining also contribute to a 'laneway culture' within Freemasons Lane."
Another signature design element is the rooftop terrace, a breathable, sanctuary space that aims to connect people with the environment and can be used to meet, contemplate and celebrate.
"It's a unique point of difference from other central business district office towers, enhancing the fresh air and collaborative spaces available to tenants," Masullo remarked.
The building's bold form has been broken down and articulated through close analysis of existing site conditions and analysis of adjacent heritage buildings. The podium is divided into three blocks of various scales – a glass lobby with canopy, intricate brickwork, and a soft transparent mesh – with each block's materiality derived from the streetscape.
The office tower is the latest work in Woods Bagot's Adelaide portfolio, which stretches back to St Peter's Cathedral in 1869.