Healthcare / Access to nature
Hospital park to build healing narrative around "place, plants and animals"
By Andrew Sansom | 07 Nov 2022 | 0
Western Australia's Health Minister, the Hon. Amber-Jade Sanderson MLA, has announced plans for a new park to be developed in one of the largest medical precincts in the southern hemisphere, as part of efforts to cultivate wellbeing among patients, families and healthcare workers.
Located next to the Perth Children's Hospital at the QEII Medical Centre, situated on Noongar Aboriginal land, the multi-million dollar Greenspace project is said to be inspired by the "healing energy of country" – a philosophy that aims to embrace the First Nations' cultural knowledge and understanding of country as part of Australia's national heritage. Designed by Hassell, the park promises to be a space layered with stories of place, plants and animals, which are vital for sustaining health and wellness.
Health Minister Sanderson said: "The improved Greenspace will benefit the health and wellbeing of patients, families and staff. It will provide clinical opportunities using the play-space to compliment physiotherapy and occupational therapy."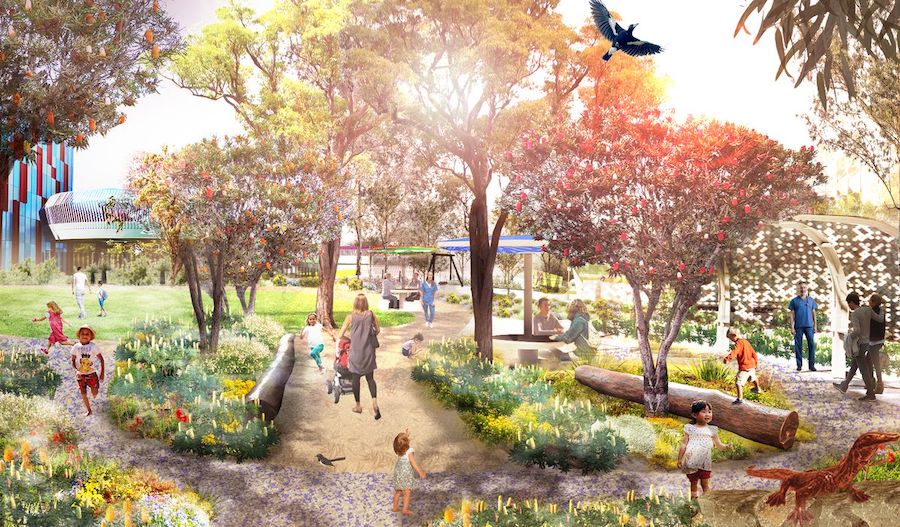 The QEII Medical Centre itself is home to 40 health-related organisations and facilities with about 15,000 staff and visitors daily. Hassell principal Anthony Brookfield says the design for Greenspace focuses on creating a place where children, their families, visitors, and staff can fully immerse themselves in nature and a rich cultural narrative.
Inspired by Aboriginal culture
Greenspace comprises four zones appreciative of Aboriginal culture and the local habitat. These include:
a natural learning precinct that offers educational opportunities on native flora, fauna and Aboriginal culture;
a nature play-space that offers a sense of fun and normality away from the clinical hospital environment – the ability to escape the confines of the hospital helps achieve a greater sense of wellbeing for patients, which is vital for maintaining psychological health in those dealing with childhood illnesses;
an entertainment space for performers and/​or outdoor events; and
a relaxation space for patients, visitors, and staff.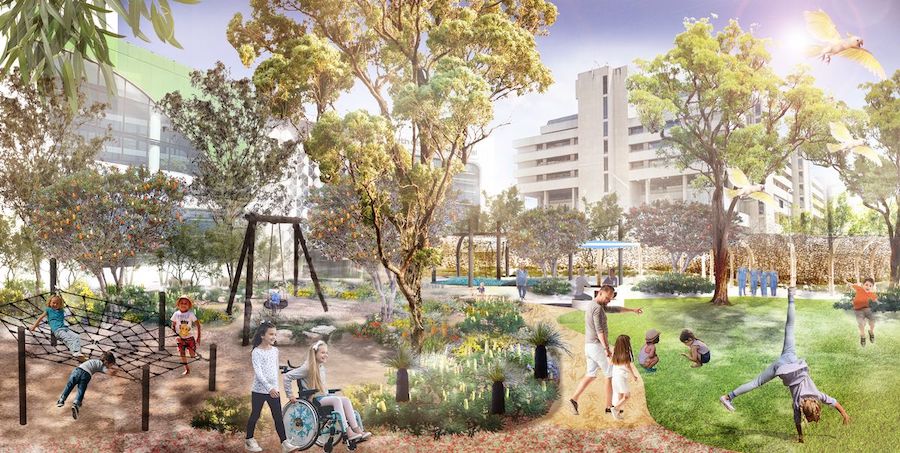 Woven into the design are Aboriginal themes and storylines. These include a Koodjal Noorn (two snakes) discovery path, shelter pods honouring the six Noongar seasons, and playground cubbies referencing Noongar mia-mias. There is also an arbour experience referencing a snake's skin associated with health and regeneration and a climbing net depicting the web of the trapdoor spider, an Aboriginal story connected to King's Park.
"This is a vital open space at the campus," Brookfield commented. ​"Our design seeks to create a culturally stimulating landscape experience for all users and draws on the essence of King's Park, creating a garden infused with nature."
The creation of Greenspace has been guided by Aboriginal cultural advisors Barry McGuire and Carol Innes who ​hope the design "will inspire connections to country and each other, and facilitate opportunities for play, respite, learning and discovery".
Innes adds: "Greenspace will be a place for young people and their loved ones to spend time together, and make cherished memories while enduring the challenges of a diagnosis."
The project has been made possible through the Perth Children's Hospital Foundation in partnership with Rio Tinto, BGIS, Hassell, Soft Earth cultural advisors, and the QEII Medical Centre Trust.